My new hobby
Since april 2007 i have started to try to make real coffee. I always did like coffee for the taste and the enjoyment it brings, on every part of the day. But surfing round on the net brought me more insight in the levels of quality coffee can have. When i recently got the oppertunity to buy a real good home-espressomachine, i grabbed it with both hands! I am never going to pretend i am a home-barista, but having fun with the Cellini and tamping and coffeebeans and procestime of an espresso is my goals.
I am a total novice considering 'real' espresso. so first i read about coffee and making coffee it in the most perfect way, on the internet (see my
links
on coffee) I did find out it comes down to 2 aspects: the 4 M's (Miscela, Maccinadosatore, Macchina, Mano) and enough money to buy good equipment fo at least fullfill the Macchina and Maccinadosatore part of the M's. :-)
I think to start as a novice espressomaker, first you read and read and read. Good articles and forums are the main source here (again see my
links
) Then you have to have a lot of money and spend it on the best machine you can buy. If you aim for latte art in times to come, take in mind that it makes a different in the choice of machine you can buy. Single boilers are good for espresso, but not so good for making good microfoam. Good double boilers are VERY expensive, so with milk art and cappuccino in mind, a
heatexchanger
is the way to go. Also
a good quality headgroup
is important. Few machines survived the regression and i ordered the
Cellini
cos i got a 30% discount at
Kaldi
!
After getting the machine (Macchina), it is an important aspect to get the correct water. So no tapwater, but filtered at least. Then the right coffee (Miscela), the right mill (Maccinadosatore), and the correct way of handling it all (Mano).
In the coming time i will try to report to you, for who is interested enough, with my progressions in learning to make real good fresh quality coffee."
---
10-09-2007
Did i finally succeed a bit in latte art? I like this one: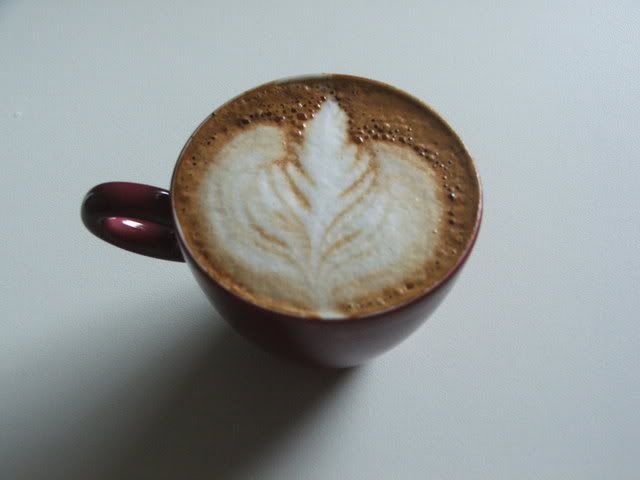 09-09-2007
Finally i have something worthwhile to write again. (i hope someone is still checking this site to find out what i am doing! *g*) I was in Dresden last Weekend and checked out beforehand where it would be interesting to go considering coffee. After
this
thread i knew where to start. A few of those recommended sites were very close from where i was staying, so friday evening first to
Essebielle
. This was bullseye! An italian who knows his machines! and a good drinkable
blend of coffee
to taste. The best thing was the buying of a
naked portafilter
. So now i can analyse my tamping technique better.
Saturdays we went to 'tiki', where there should be good coffee als. Big dissapointment. This was for me a waste of money. So directly a street further to
'49',
. This was better. A Famea machine and someone who made an effort to a good espresso, The room looked nice and interesting. But further on my search for coffee i went to
utensil
in the same street.
First i thought to stay out of this little shop. But it was good i went in after i saw a machine like my own standing in a corner. good talk about coffee and noticing the same enthousiasm with my talking partner, i even got a good shot from a local roaster. And that gave us automatically my next goal to walk to. "Rösterei Dresden", Bautzner Strasse 75. Here they know how to make a decent coffee, roast their own beans and blends. A fun talk again and a nice cappu for the misses.
My search for a handmill didn't succeed, not even after strawling over a second hand market with several rusty mills to buy. But it was fun going around a city finding good coffee, and a good talk about the black gold.
05-07-2007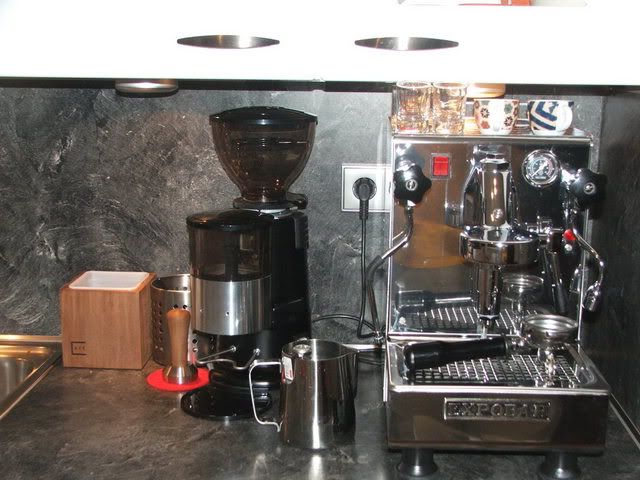 Today we went to
kaldi Heerlen
for the other things you need for making (or at least trying to) decent espresso: Tamper, puckbox, brush, scaled glasses, milk kan for microfoam, even a temperature needle to start to learn to feel the right times to go from surfing the milk to swirling the milk. The tamper was such a relieve! Nice feel and much more control on the pressure. We als set the grider a tic finer, cos the flow was really above 30 ml. And we even got one shot we didn't want to spit out! maybe tere is hope for us to get some espresso that's drinkable.
04-07-2007
It was an evening with a lot of coffee, but first we had to unpack the boxes.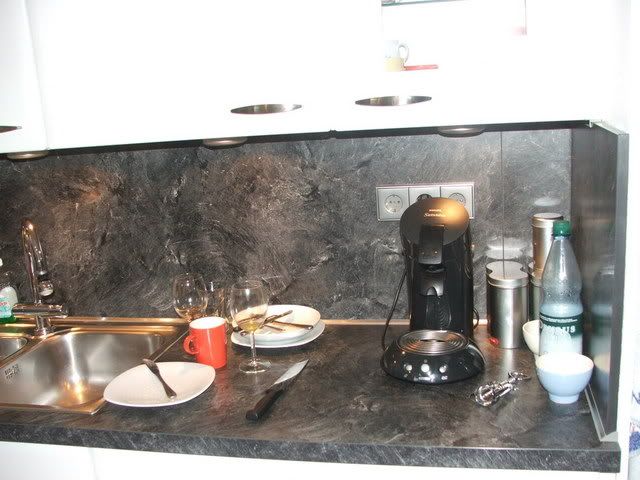 After that it was to cleaning the expobar, there was a lot of 'factory dirt' still on it. and the problem that there were two tubes hanging in the tank without a filter on one. so i didn't know witch one was the feeding, witch one is the backflush tube. Thank god there were two inline filters in the package so i put one on each tube, and today i have time to find out witch one is what.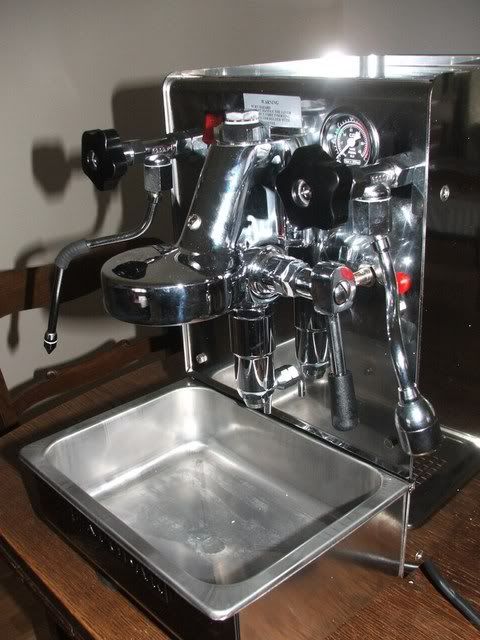 The macap was another thing. After unpacking and enjoying the looks of the machine, we put it up on the place where we are gonna use it, and plugged in. We put in some beans and switched it on. The beans were jumping around, but nothing happened. The stepless adjustment let me turn the dial to coarse and to fine, but still nothing happened at first. I still don't know why it didn't grind right away. I even put the burrs to close/to fine but you notice that right away. But at one time spontaneously the beans were being grind and finally we got some grind coffee into the hopper!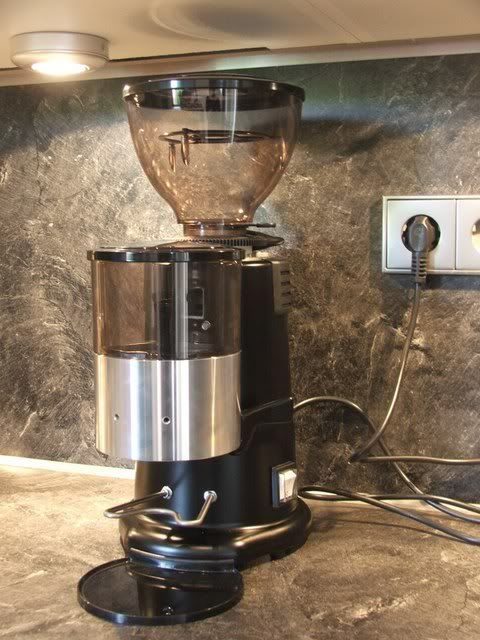 Finally we could try to use the expobar. It was filled up with water and we let it warm up for 30 minutes. first time using the macap for filling the basket, and making a mess of course. It will needs some time to get used to the hopper and the way it shoots the coffee in the basket.
A pain in the ass was the standard tamper that comes with the machine, even something plastic that goes with the delivery should at least fit the basket! no way, even this shitty thing is to small for tamping on 58 mm. So first thing today is getting to a shop and buy a decent tamper (among other stuff)
We started with a roughly dialed in macap more ion the 'coarse' side, an immediately it was clear we need to get a better and more consistent sequence of grinding and especially tamping. within 10 seconds the cups were filled. So we kept dialing the macap on finer grinding, and noticed some improvements, but because we still have no tuned in tamping, no espresso that tasted good was experienced this night. (what to expect from totally starters!)
After to much espresso tasting i tried the steamwand for one last cappu and it was clear this also needs a bit getting used to. But it was fairly agreeable microfoam, shame i took the wand out too quickly at the end: bubbles party!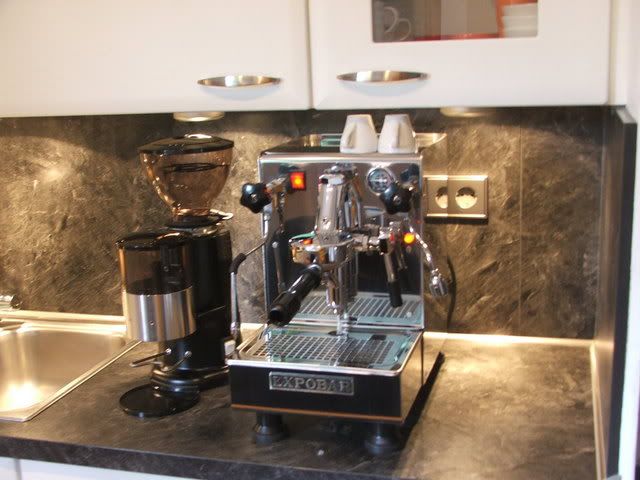 All in all a good evening with a lot of new experiences. Let's hope we will get better soon, because a lot of friends and family are jumping to taste the real coffee!
26-06-2007
So far so good. We made the final step. We decided to go with the offer
kaldi
Maastricht made us. Since we are waiting for months now, and still no light at the end of the tunnel, considering the delivery of our ECM, we took the offer for a Expobar Office Leva. We went looking at the machine in Maastricht, and it looked better than we thought. The technial parts are all good, it even has a little water descaler integrated!
The next problem is that you realy need a (good) grinder to go with the machine. So i decided to get into my savings money a bit and get at least a comparable grinder to go with the machine, since a good grinder is even more important than a good espressomachine.
For good fairly payable grinders (around 400 euro that is), 2 stand at the top of the scale. The mazzer mini and the macap M4. there is a lot to find about on the internet comparing those two. The costs are the same, so it comes down to the looks and handling because the quality and endurance is also more or less the same in those two machines. I think it will be the macap (see pic), since reading
this very detailed review
among other stuff like a lot of fora, discussing these grinders.
With these two gorgeous pieces of thechnique, it will come down to getting the little accessoires needed: a tamper, a box for the pucks, a pitcher to foam milk, a Brita for descaling the tapwater, cups and glasses for pouring the liquid gold into, a brush for cleaning the doser, cleaning detergent for the Leva.
I hope from now on there will be something to write about, getting into the world of homemaking espresso on a higher level!

19-06-2007

After all this time there is not a lot of progression in the world of espresso. The machine ordered is still not available, it seems the italian way of working is not too fast. Now i got the offer for another machine that is on stock. The Expobar office leva. Roughly the same machine from a spanish manufacturer, but the looks are a bit different. Soon we will try it at the shop and decide if this machine is the one that's gonna come home. In the menantime we had a lot of gifts in the form of coffeebeans and espressocups, so the preparation of the world of home made espresso is on it's way!
25-04-2007
Me and Britta went to an espresso workshop in
Heerlen
. It was an amazing evening with a lot of new impressions and experiences. After reading so much about making espresso i finally got to do and see the whole process in real. Led by a proffesional barista contest panelmember, we and 5 others got into the ins and outs of making good espresso and cappuccino. I cannot wait to get my Cellini at home, to decide what grinder we want to buy (and the amount of money we want to spend on it) and start practising. I think this could be a more expensive new hobby compared to climbing *g*.